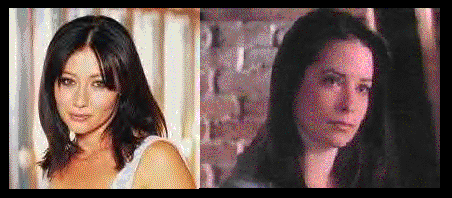 Left to Right: Alyssa Milano, Shannon Doherty, and Holly Marie Combs Have All It Takes To Be Charmed!
Shannon Doherty "Prue Halliwell"
Shannon Doherty is a real great person and I don't know why people are alwayz teasin her. I mean, i know SHE USED to dress a little rated R, BUT not any more! Shannon Doherty plays the ever smart Prue Halliwell. Prue has da power to move things with her mind and like teleport. Now, I am just sayin that is pretty cool. Prue hates her dad but really she loves him a lot. She's lately been havin trouble with men as well as in real life! Prue is tight, I'll be addin a page bout her on this site later on, to get the real info!
Holly Marie Combs "Piper Halliwell"
Holly Marie Combs is what I would call a great actress and I think like she is da bomb, especially with what I would call A REAL CUTE BOYFRIEND, LEo! Duh! Holly Maire Combs plays the part of Piper, the witch who can freeze! That is an awesome power. Holly Marie Combs used to play on Picket Fences. She is a great actress and has talent. I LUV da way she dresses, and her EVER GREAT club, P3. I think she's my fave TV show actress!!! Piper is obsessed with findin her father. Piper is real great, so I am aslo gonna make a bio bout her LATER!